Hello 2010 and a Happy New Year to you all!
It's a new year and this is the first blog i've ever written. I hope to use this to write some big updates etc. or to recap on things that we have done or doing e.g. when on tour and all that!
So yeah, 2009. It all went a bit quick I thought but the 1st of January 2009 seem's suchhhhhh a long time ago. For the band it has been a very succesful year in my eyes, some of the things we have accomplished this year has been jaw dropping at times. This time last year I would never of thought that we would of been playing shows in and out of the UK with some bands that have been hugely influential for us for the best part of 10+ years.
January 2009: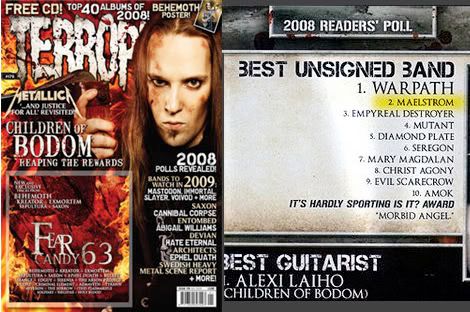 January started on a real high, we had made it into the top ten of Terrorizer Magazines 'Best Unsigned Band' of 2008 (As voted by the worldwide readers of the magazine)! Not only had we made the top 10 but also friends of the UK Thrash scene had as well in the shape of Warpath, Mutant and Amok. The rest of the January, February and March was spent playing some local shows testing out some newer songs and mainly writing new material with plans of recording and releasing another EP in the latter part of 2009. The first quarter of 2009 also saw the band confirm there first festival... a European Festival... not in the UK, in fact, quite far from the UK. This all took place in...
April 2009:
We had been confirmed to play the prestigious Inferno Festival held in Oslo, Norway. This for us was HUGE! A small unsigned band from a small town called Yate near Bristol, playing an established festival that is well attended by fans from all over the world that is now entering it's 10th year. The trip and festival itself was a bit of a blur as our feet didn't really touch the ground (Because we flew, harhar...) because in a space of about 72 hours we took a plane from Bristol to Oslo via Amsterdam, arrived in Oslo, straight to the hotel, down to the venue, beer/metal, hotel to sleep, to venue, soundcheck, sightsee, back to venue to play, beer/metal, hotel to sleep and back to the airport to go home. It was the begining of a great month that also saw us as direct support to Earache's SSS at the FULL THRASH ASSAULT all-dayer at the Snooty Fox on April 25th 2009. The month can more or less be summed up by questioning this picture from Norway...
Why are Ben's legs so far apart?
ANYWAY, playing at the Inferno Festival opened doors for us as such. We had broken into Europe..., all be it via a 30 minute set opening the second stage on the final day of the festival but it gave us some ammo. It mean't we were able to approach the bigger gigs going on and even more festivals and use our ammo as a way of showing the promoters that we were more then just an unsigned band, that we were focused, determined and prepared to work bloody hard at what we do. Fast forward to...
August 2009:
The hard work had paid off in the shape of an offer to play the new ROCK CITY FESTIVAL in Romania and Portugal's ILHA DO ERMAL Festival!
August also saw the recording of the new CD for the band, 7 tracks had been laid down but before we knew it the festivals had creeped up on us and so we had to put the Mixing/Mastering etc. on hold, but then about 1 week before the show in Romania...
Great... the band had all personally paid for our own flights to Romania and a hotel for the duration of our stay. We. Were. Gutted. After spending near on £250, a cool weekend away playing a new festival with Immortal, Amon Amarth & Overkill had now turned into an exspensive weekend in Bucharest staying at a hotel next to the Airport... alas all was not lost! Another band from the UK 'Eastern Front' were set to play the festival as well but had already played in Romania once before... and with a week to go before we flew a show was setup with 'Stay Metal Forever' promotions at the Suburbia Club in the centre of Bucharest and we ended up playing a near sellout show alongside Eastern Front and several other local bands. The whole trip was fantastic and we made some great friends over there!
A week passes and we are in Portugal to play the ILHA DO ERMAL Festival alongside, Obituary, Pestilence, Blind Guardian and the mighty Sepultura! We flew into Porto and were greeted by the festival staffThis had to be for me the best part of 2009! Playing a festival in a beautiful location alongside bands that 10 years previously we were all cranking the CD's in our bedrooms (We still are today as well).
The show itself was great, we played mid afternoon (The hottest part of the day) and had a 30 minute set to do so! After running around like a looney on stage we all went to chill out at the beach (which was on site) for the remainder of the afternoon while drinking beer and watching the bands from where we were sat. Truly. Awesome. The next day it was much of the same and waiting to see Seps. They were immense, alot of people say it isn't Sepultura without Max/Igor or that it isn't a real band... after listening to the bands newer CD's, I could safely say that they were getting stronger with each release. But seeing the band live, playing the old songs you know and love as well as new songs from A-Lex... they, were cemented as a band for me. A fu*king crushing band, this was the new chapter in the long story of Sepultura and for me that was what it was, Sepultura!
If watching the band down in the pit with Alex wasn't awesome enough, after the show we all went and hung out with the band in their dressing room area and had a real nice talk with them, it's always awesome to know that your hero's are also bloody nice people and *touch wood* everyone I have met over the years so far, Mustaine, Chuck Billy etc. have been all the same!
Portugal was awesome!
September 2009:
Back to normality and back to work. September mainly saw us finalising the CD in preperation for the release date that was set for October 30th 2009. The show had all been setup, a hometown show in Yate with 3 local bands, a charity raffle and the release of our new 7 Track LP, Disposable Suffering.
September quickly fizzled out and October was upon us.
October 2009:
The month that would see the release of our new CD started off in the worst possible way.
Taken from the Mike Alexander website (http://www.mikealexander.co.uk)
"Sadly, just a few days into their European tour with Amon Amarth, Evile's Mike Alexander was suddenly taken ill and rushed to hospital, but tragically passed away in Lulea, Sweden due to a Pulmonary Embolism (Blood Clot on the Lungs).

Evile members Matt Drake, Ol Drake and Ben Carter have released the following statement:

"This is so hard to find the words to express fully how we feel. We can't believe or accept what's happened. One minute we're talking to our buddy, Mike, the next minute we can never speak to him again.

There's so many things rushing through our heads that we want to say, do and feel. We half expect him to come round the corner and call us 'dickheads'. We can't get our heads around it.

It upsets us so much that he was away from his family when this happened, although knowing Mike, we're at least glad he was on tour doing what he loves.

We're lost for words. We all miss him so much already. He was such a headstrong, genuinely nice guy who loved music and his family. We've got so many brilliant memories with him.

Our hearts go out to his daughter, two lads, Hayley, his whole family and friends at this tragic, difficult time.

Mike is much loved and is sorely missed.

Rest in peace, brother."
On that Monday I had noticed a flurry of activity among friends online that got me asking some questions in regards to the Evile tour taking place in Europe. Something had happened, I knew it was bad but didn't know in what way. I had myself asking questions like, have Evile dropped off the tour? Stupid questions like, had Earache dropped them from the label? I was trying to think of bad things that could happen to a band but when my friend Dave Ingram flased up online and said 'I think it be best I call you, sit down.'.
His number flashes up at nearly midnight and I answered with a rather nervous and questioning 'Hello...?' and Dave literally said, 'I don't really know how to say this so i'll be straight... Mike's dead. I was literally speechless. After a few seconds I placed one hand on my head and just said. 'What?', 'Mike has died mate'. Again a few seconds passed and I just couldn't believe what I was hearing. Mike, the bassist from Evile had died. A band that were going from strength to strength and had just released the new album 'Infected Nations' several weeks before and also a band that we have had the pleasure of sharing a stage with on numerous occasions. the first time I met Mike was at the release show for Onslaughts new album 'Killing Peace' that both Seregon and Evile were playing. I remember sitting out the back and having a chat with Mike over a tube of pringles about how thing's were going with the band and all that. Mike was very easy to talk to and always willing to chat, the last time I saw him was at Bloodstock, having a laugh, pissing about, drinking beer, late night raids on his tent with Ben (Evile Drummer) which resulted in this photo:
With the CD release show imminent it made sense that the charity raffle being held that night that all proceeds went to Mike's family. When Terrorizer asked me why we were doing what we were I said this:
"The main reason as to why we are doing everything we can is simple, the UK Thrash scene is a big family and families need to stick together and look after one another. After playing with Evile a few times, Mike instantly made you feel like you had been friends for years and I can find comfort in knowing the last time we spent time together was having a blast at Bloodstock with friends all around. Mike and Evile raised the bar for unsigned Thrash bands like us as well as hold the door open and help many of us through, for that we are truly grateful. We will miss you Mike, Love and Bruises. James."
The show that night was a great show in which we raised £1000 for Mike's family, the money made it to them just in time for christmas. I know it won't be able to change what has happened but if it means it helps his family in any way then we are happy.
November 2009:
The CD was out, it was selling well online and at the gigs we were playing. November also saw the 'Disposable Suffering' UK Tour in support of the new CD. We went out for 7 days for 7 shows with Taunton's 'Flayed Disciple', a fantastic time was had and friends for life were made (Apart from Phil from Flayed Disciple, he is a piece of sh*t and if he says anything about my family again, we are gonna fu*king do him over).
The tour was a success I felt, we weren't out of pocket, we had a roof over our heads each night and a bed/floor to sleep in/on and had a Sainsburys Fry Up 4 days out of 7, happy days. Of course we had a couple of promoters sting us, but what can you do? We still had some great shows and met some great people a long the way (Apart from Phil).
The 'Search from James's Testical' UK tour 2009 (If you follow the line of Phils middle finger you will see that he is in fact pointing right at my bollocks, seriously hold a ruler on the screen and follow the line, I tell thee, that Phil is a proper bender.
And so December was now upon us.
December 2009:
Where did the year go I ask you!? December saw us play several times including the Mike Alexander memorial shows that were setup by Evile and Earache. The two shows took place on the 7th and 8th in Leeds and London. We were truly honoured to be involved in these shows and be a part of a fitting send off to a legend of a bloke in Mike Alexander. Tears and beers were shared on both nights and I can't thank everyone involved enough for everything they did on both nights, the bands, the Earache crew, the venues. Both nights were truly incredible. Our final show of 2009 was a set at Bristol's Anti-Christmass IV alongside some of the best metal bands in the South West (Apart from Flayed Disciple who were sh*t, nah jokes, just Phil...). The show was alot of fun and a fitting end to what had been a very busy and eventful 2009 for us, me and Ben both had a chest infection at the time as well which didn't help at all! Safe to say I was bummed out not being able to give 100% on the final show of the year but what can you do?
I want to thank EVERYONE who has made the effort to come out to a show this year, buy a CD/T-Shirt etc. The promoters for putting us on and setting up the shows in the first place! our families and friends (You know who you are! And you also know you are not... Phil) Seriously, thankyou all for a truly memorable 2009 as we now venture forth into...
January 2010:
So 2010, what have we got planned...? Further world domination it would seem! We have already confirmed our first EU Festival appearance of the year at Germany's WAY OF DARKNESS Festival confirmed to take place on the 1st and 2nd of October 2009 in Lichtenfels! We are also in talks for a couple more things but if and when it happens you will be the first to know, well actaully we will be but then you lot, promise.
A nice big load of merch and press packs went out this week as well so let's see what happens eh? If festivals and labels can see how hard we work and willing to work hard alongside us then let's see what we can achieve in 2010! :)
And if you have gotten this far then well done and thankyou for your time! As a way of saying thankyou, a New Year gift to you all:
This is our musical tribute to the 'Alien/s' movie franchise. Buy them NOW : http://www.play.com/DVD/DVD/4-/517547... Thankyou to 'Ðì§çØñNë¢T' (arsiydisconnect@hotmail.com) from the Megadeth Forums for putting this together. Taken from the 2009 LP 'Disposable Suffering' : http://seregon.bigcartel.com
Also please check out our video for the song 'The Removal of the Spine' here also, got a bit of a theme going here haven't we? ha!
Happy New Year all and again, thankyou!